Aydon Castle is one of the finest fortified manor houses in England dating from the 13th century. Until fairly recently it was lived in as a farmhouse and so it has been well preserved.

The castle was in the forefront of the action while the Border warfare raged. Built on the edge of a deep ravine, it housed many a Scots prisoner.


It was at Aydon Castle that a Scottish reiver saved his life by leaping to a rock on the very edge of the ravine.
He was one of a party who had made a raid on nearby farmsteads and had been captured by Sir Robert Clavering and condemned to being hurled to his death into the ravine. He was the only one to escape.
It was a tremendous feat, and the spot is named Jock's Leap.

This is reminiscent of the Soldier's Leap at Killiecrankie and it would be interesting to establish who made the greater leap.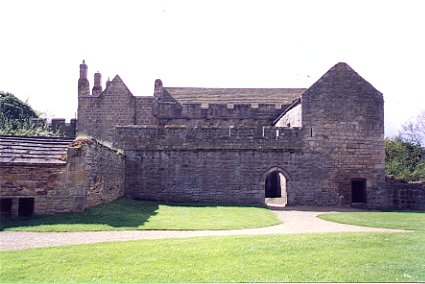 Aydon Castle lies two miles north east of Corbridge

To visit the castle take the B6321 north east from Corbridge. After crossing over the A69 take the road on the left after about half a mile.

The castle is ahead overlooking the steep valley.

O.S. map ref: 87 00 66.

Open April to October.

There is an ample car park, a small shop, toilets, and a 'Living History' education centre.

Tel: 01434 632 450

The Castle is associated with the Claverings, Carrs,
Blacketts and the Collinsons.

An English Heritage site.