Of so many spectacular castles in Northumberland this castle ranks high.
It was built on an outcrop of the Whin sill overlooking miles of unspoilt sandy beaches, and was restored in 1900.
Little of the medieval castle is left and what is visible today is a interpretation of a mighty stronghold. It has been described as being to a Victorian folly.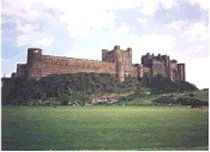 Nevertheless, it is very impressive, especially from the outside, and is very photogenic.
The Armstrong Museum now occupies what used to be the Laundry and illustrates the life of the great industrialist, the first Lord Armstrong.
The castle is reputed to have a ghost, 'Green Jane.'

A public tour provides much of historical and general interest.
A visit is strongly recommended especially to see the
exterior.
Take the B1341 from the A1.