This late 13th century stronghold, Caerlaverock (Lark's Nest), is one of Scotland's finest castle.
The building and its setting are magnificent..
The ruin stand near the mouth of the River Nith seven miles south east of Dumfries. It is surrounded by a moat (now dry) in the midst of what was once a large expanse of marsh land which would have made it very difficult for an enemy to approach. The views from the lofty towers would have afforded the defenders with ample warning of an approaching enemy.
The castle layout is triangular which is very unusual. Much of the castle still stands, the impressive gatehouse being especially well preserved.
The entrance was guarded by a drawbridge over the moat and a strong door and portcullis. The room, above the entrance, which housed the portcullis can still be seen.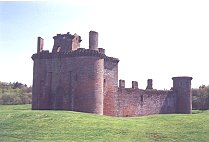 The castle was besieged by Edward I (among others).
Formerly for many years is was the home of the powerful Lords Maxwell.


On its own, Caerlaverock well deserves a visit. There are walks in the area, a shop and tea room. You may park your car within the area.


From here you can visit nearby Caerlaverock nature reserve and then the renowned Ruthwell Cross on the road to Annan.