Traquair House is said to be the oldest inhabited house in Scotland.
Visited by twenty seven Scottish monarchs and spanning over 1000 years of Scottish History, the house has strong association with Mary Queen of Scots and the Jacobites.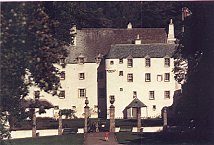 The gates to the house were closed after the departure of Bonnie Prince Charlie in 1745 and have remained closed ever since, and, it is said, will remain closed until the Stuart line regains the throne.
Traquair House is the home of the Earl of Traquair, the Maxwell Stuart family.
Amenities: - 18th century brewery, maze, craft workshops, Cashmere shop, licensed cottage restaurant, extensive grounds, a maze and woodlands walks

At Innerleithan, less than 30 miles from Edinburgh on the road from Pebbles to Selkirk.
Map ref: 73 332 355