Thus is very fine 14th century peel tower restored in 1992 and the home of Lord and Lady Steel of Aikwood.
When the Young Pretender, Bonnie Prince Charlie, passed through the Borderland, the Laird of Oakwood was persuaded to join the prince's rabble army.
After their dreadful defeat at Culloden, all who had supported the Prince were hunted down remorselessly by the Hanoverian forces, but the young Laird was able to elude them and successfully made his way back to his home at Ettrick.
There he felt secure. He was among friends and he felt sure that they would not betray him.
However, in spite of every precaution, the secret leaked out, and news of his whereabouts reached the ears of the government forces.

Then, one dark moonless night, the blacksmith at nearby Carterhaugh was awaked by the sound of horseman and then a loud voice hailed him from outside and ordered him to open his door.
In the darkness, the blacksmith made out the shapes of many mounted soldiers shuffling restlessly in the gloom.

Their leader demanded to be taken to the tower at Oakwood to which the blacksmith had no other course but to agree and requested time to get on his breeks.
Closing the door on the troopers, the blacksmith slipped to the back of the house and roused his apprentice and bade him go at once with all speed to Oakwood and warn the Laird.

While the boy sped through the night in his nightclothes, the blacksmith slowly dressed and delayed as long as he dared before presenting himself to the troopers.
He led them through the night by devious routes and eventually arrived at Oakwood long after the laird had escaped to safety in the hills.

Carterhaugh is still there, between the Ettrick Water and the Tweed.
Map ref: 73 436 268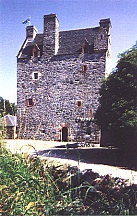 The present tower was rebuilt about 1602.
Its walls are only about 4 feet thick and above the dungeons are three stories all restored.
Most displays in the tower refer to the tremendous restoration job which was carried out by the Steel family. Their achievements are truly awe inspiring!
There is an exhibition of the life and work of James Hogg, the Ettrick Shepherd. The tower has a haunted chamber known as the Jingler's Room.
There is also a small medieval garden, stocked with rare ancient plants, a car park and a small shop.
The tower and gardens are open May to September. Tuesday, Thursday and Sunday.