Another Story.
During a February day 1831, the mail coach going north from Moffat, encountered a most intense storm and the driver and the guard struggled on for some miles through the blizzard, but eventually had to abandon the coach which had become engulfed in deep snow. They released the horses, and, carrying the mail bags between them, the two men fought their way along the road through the deep drifting snow. Conditions were so bad that they were soon overcome by the cold and wet.
Only the horses survived, making their way to a nearby farm where the alarm was raised.
A search party was assembled but the conditions were so extreme, the storm continuing unabated for five days before they found the bodies of the two men on the roadside only half a mile from the Devil's Beeftub, still with their mail sacks.
A monument was erected to commemorate the devotion to duty of the two mail-men.
It is still there, by the roadside.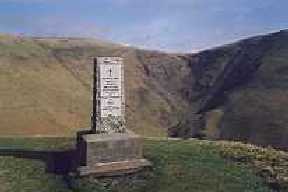 NEAR THE HEAD OF THIS BURN
ON 1ST FEBRUARY 1831
JAMES McGEORGE, GUARD
and JOHN GOODFELLOW, DRIVER
of the DUMFRIES to EDINBURGH MAIL
LOST THEIR LIVES IN THE SNOW
AFTER CARRYING THE BAGS THUS FAR
ERECTED 1931