Duns is an attractive market town having an old world atmosphere about it and is worth spending time there taking a leisurely stroll around its streets. There is much of interest to see. A Town Trail booklet is available from the newsagent's in the square which now serves as the information centre which is now unfortunately closed.
Duns has a spacious and attractive Market Square featuring the Merkat Cross.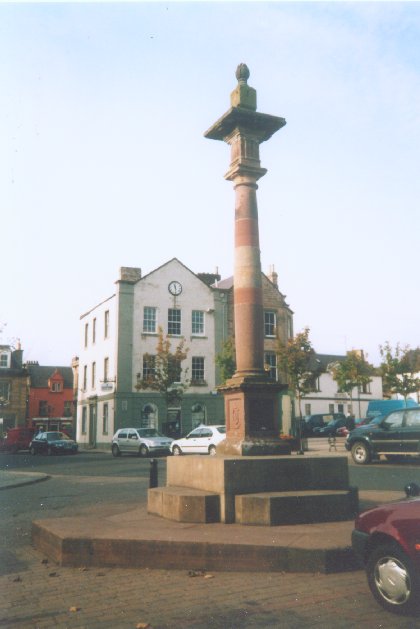 The Mercat Cross at Duns and behind the Toll Booth House.
The old town was by St Mary's Cottage to the northwest of Duns Law and at the Bruntons there is a plaque marking the site of the old town of Duns. It was destroyed by the English during Hertford's invasion in 1545 and then abandoned.
In 1588 a new settlement was established.
Tolbooth House
Situated on the west side of Market Square, this building was once the Town House of Sir James Cockburn of Langton